KEYNOTE SPEAKER | AUTHOR | BOARD DIRECTOR |
LECTURER | FINANCE AND RISK EXPERT
Meet Terri
From rural Louisiana to studying Math at MIT. From trading derivatives on Wall Street to lecturing at Oxford University. As a successful woman, Terri Duhon has a unique perspective on success, failure, risk and diversity for all audiences. Terri is a dynamic, engaging, authentic speaker who inspires and motivates audiences globally.
"You aren't the sum of your past experiences,
you're a function of your future potential"
Speaking Topics
Terri is not afraid of tackling tough topics. Her background gives her a unique perspective on the high powered world of business and finance. For example, as a trader, she was part of the pioneering team at JPMorgan that developed the credit derivative market and later, as an entrepreneur, she worked on several high profile investigations and litigations post the crisis such as the Libor scandal. She is authentic and prepared to laugh about both the highs and the lows in her career. She inspires and encourages senior business leaders to students in school. Some of her talk topics include:
The Non-Linear Career - Embrace the Curves

Dream Big, Fail Often and Never Give Up

What is the point of a Math Degree?

Why finance needs diversity

Forging a path to the boardroom
How the Trading Floor Really Works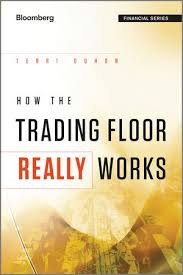 Trading floors have always fascinated people, but few understand the role they play in the world of finance today. Given the recent financial crisis, it is more important than ever to understand not only what role banks play in financial markets, but why they take risk and how it all goes wrong. This book demystifies the trading floor and financial markets using simple examples, real words and lots of true anecdotes.
Foreword by Gillian Tett of the FT and best-selling author of Fool's Gold.
Diane MOrris

Chenavari Investment Managers
"It was an absolute pleasure having Terri speak at Chenavari recently. Terri delivers her messages effectively in an open style with great energy. It was useful to hear about her career journey, especially for our female and less experienced colleagues. Ours can be a challenging audience with varying levels of seniority and Terri's pace and content kept them interested. It was a real success, colleagues talked of feeling inspired as well as the topics being thought provoking. Terri is a wonderful female role model and a great inspiration, I am very glad we have been able to connect. "
Alex Barrett
MBA London Business School, Women in Business Conference Organizer
"Terri was one of our stand-out speakers at this year's London Business School Women in Business Conference. She kept the audience brilliantly engaged throughout her talk with consistently high-energy delivery, while being willing to address the toughest issues and questions, pushing the boundary far beyond the "conventional" topics that other speakers might have stuck to. All-in-all a fantastic experience."
Dilara Barca
I have really enjoyed reading your book and learning about your experiences in financial markets as a female trader. I really admire you and how you have managed to be so successful in such a male oriented field without needing to change yourself. Having recently started working as a trader in fx derivatives (as a market maker), I could really relate to the experiences you wrote in your book. You having done it all without losing your identity gives me some hope as a female and I wanted to thank you for it. I wish there were more examples around and more female trader mentors available as I think it would make such a big difference for women in finance.
Contact Me
Get in touch if you want to discuss speaking opportunities.
Please complete the form below